Exhibitor at ITTF Warsaw - Banknoty Pamiątkowe
Banknoty pamiątkowe - the sole representative of the Euro Souvenir project in Poland. During the ITTF Warsaw fair, we will invite our fair guests to the extraordinary world of 0 Euro Souvenir commemorative banknotes.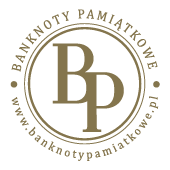 The 0 Euro Souvenir banknote was created in France in 2015. Only four years later, the first Polish issue took place. The entire circulation of 5,000 pieces of the "Warszawa" commemorative banknote was sold in one day.
The "father" of the Euro Souvenir project is Richard Faille, who in 1996 established a cooperation with the French state mint Monnaie de Paris in the production of personalized medals that a museum, tourist facility or amusement park offered to visitors as a souvenir.
Due to the success, after long preparations, in 2015, a commemorative 0 Euro Souvenir banknote appeared in France. The project quickly gained popularity and its reach expanded to include new European countries.
A unique feature of the 0 Euro Souvenir commemorative banknote is the possibility of presenting images of interesting places or recognizable figures, both historical and contemporary, which have not yet been featured on banknotes in official circulation. Thanks to its collectible value, the souvenir reaches a wide audience all over the world. Although the 0 Euro Souvenir banknotes are not legal tender and resemble genuine euro banknotes only in their appearance, they contain similar security features, including watermark, hologram, microprint or UV elements. 0 Euro Souvenir banknotes are made of 100% cotton paper.
The idea behind the project is to promote tourism, strengthen and raise the awareness of the inhabitants of a given region about the most important monuments, museums, places of culture, art and other tourist attractions, events or outstanding personalities.
More information at: https://banknotypamiatkowe.pl/